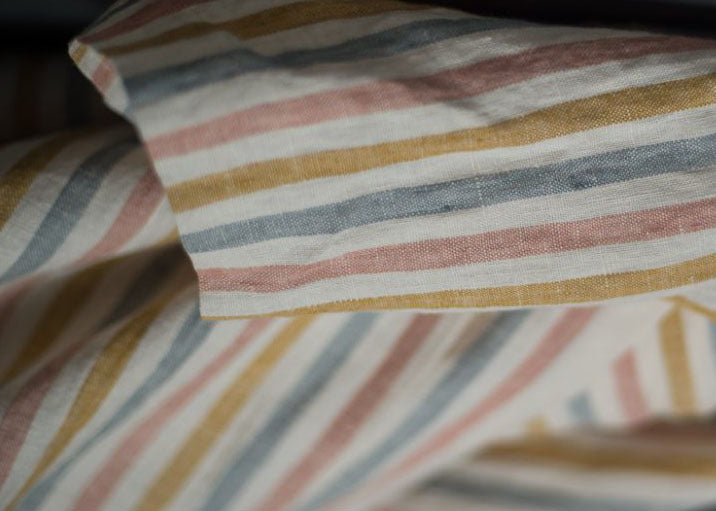 Merchant & Mills 185 dress weight linen is, in one word: AMAZING! Yes, All CAPS! I can't even begin to tell you how much I love this linen. It has been a long time dream for Field & Cloth. This fabric is perfect for dresses, loose fitting tops, trousers, but it can also be used for much more than garments. It works beautifully for lighter curtains (lined to prevent fading), table linens, bed linens, quilts, or just to wrap yourself with. Every Merchant & Mills linen is produced in small batches in Eastern Europe where there is a strong heritage of spinning and weaving linen fabric. This striped pattern is every bit the stuff dreams are made of.  The stripe runs parallel to the selvedge

Oeko-Tex certified 100% laundered linen
56" wide
5.5 oz (185 gsm)
Machine wash cold with a non bio detergent. Do not tumble. Shake out and dry flat. Linen will always seize up after washing but as soon as you start to use/wear it the fibres relax again.
* Our fabric is sold in 1/2 yard increments. Therefore, the price shown is for each 1/2 yard. If you wish to purchase 1 yard, please be sure you have 2 in the quantity field (2 QTY = 1 yard). Fabric quantity ordered will be shipped in one continuous piece, unless quantity exceeds the length available per bolt or as requested otherwise.
* Please know that despite our best efforts to create the perfect natural light photo representing true color, variations in your monitor's color settings can impact the appearance of our products. Because of that, which is out of our control, we can't guarantee that the fabric's exact colors will be what you see on your device.